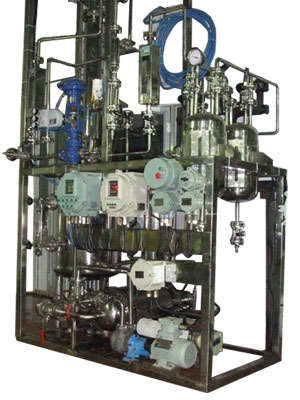 Expensive and high-grade products / solvents are not produced in large quantities, as they are typical for pharmaceutical industry & also for fine/special chemical areas. Small, flexible facilities are necessary for these applications, which can be easily cleaned and quickly adjusted for the next product.
They need corrosion resistant materials that do not interact with the product and do not contaminate it.In addition, it is frequent that only limited space is available for the assembly of the facility, and therefore compact design is preferred.KERONE has developed a systems perspective to distillation technology, whereby a fully functional distillation unit, including peripheral equipment, is built and assembled in our workshop as a skid, then delivered to the customer as a complete operational system. we have provided multipurpose distillation unit which can perform various types of distillations. Traditionally, the fine chemical and pharmaceutical industries have favored batch distillation.
Types of Fractional Distillation Operations:
Simple Distillation
Vacuum / High Vacuum Distillation.
Fractional Distillation.
Azeotropic Distillation
Features of Fractional Distillation
Reactor of respective size with Mechanical seal, suitable agitator, Motor, Gear Box, Bottom valve & Cladded insulation.
Column with Collector & Distributor of suitable MOC.
Main & Vent condenser with product cooler.
Reflux – Forced / Gravity whichever is suitable.
Rotameters, Temp. sensors with scanner, Pressure / Vacuum Gauges.
Two distillate receivers of suitable size.
Distillate & reflux lines within skid.
Vacuum manifold & vacuum lines within skid.
All valves within skid for process, vacuum & utility lines.
VFD with Local flameproof panel for speed variation.
Reactor base lowering system with either hydraulic or manual operation.
SCADA System.
Instrumentation Provided:
Temperature scanner for the temperatures of Vapor, Utility Inlet & Outlet.
Temperature Control loop with control valve on utility side & profile temperature controller in flameproof construction.
Pressure control loop with Pressure transmitter & Pressure controller in flameproof construction.
Compound gauges on reactor, receivers, vacuum manifold.
VFD with local flameproof panel to operate remotely.
SCADA system to monitor & record the data
Product Range of Fractional Distillation
Distillation Capacity – 10 L to 500 L.
Temperature -90 to + 300 Deg. C.
Design up to 10 kg/cm2 Pressure to Full vacuum.
MOC – SS-304, SS-316, Or any other user specific requirement.
Operating RPM of Agitator 0 -300 RPM.
Aagitator can be easily changed with atleast 9-10 types of agitators.