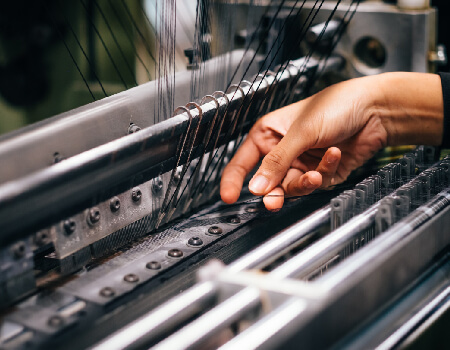 In Textile Industry there are various type of drying like thread drying, cotton reel drying, yarn drying, wool drying etc. All textile products are uniformly heated THROUGHOUT THE PRODUCT. Main advantage here is different types of products like wool, cotton, silk can be dried in single space thus it is economical. As time required for heating is less there is no any danger of contamination of any other color on fabric
Applications in Textile Industry :
There are numerous processes in the Textile Industry that can be taken care of like Thread and warp drying, Heating of cotton reels, Drying / heating of textile webs, Dryers for yarn packages and tops, Dryers for loose stock, tow / top slivers and yarns in hanks, Dryers for fabrics, Dryers for non-woven and other textile applications, Dryers for stocking and tights, Fabric felt drying, Wool bales disintegration.
Almost any product in the industry including Polyester, Acrylic, Poly amide, Wool, Cotton, Viscose, Ramie cotton, Angora, Silk, Rayon can be treated in the form of Fibers, Cheeses, Cones, Hanks, tows & tops or Fabrics.
Note: Results may vary as trials have been performed under lab setup.
Advantages :
Due to self contained heating cavity and no steam requirement workplace environment is more improved and secure at the same time there is no radiated heat loss and reduction in the energy consumption. It helps Uniform heating through entire thickness of the various materials. Energy efficient and Eco- friendly than conventional drying methods. The products are made with state of the art technology with very low maintenance compared to conventional heating equipments. Various products / materials and packaging can be heated / treated in single unit which means less capital investment. Due to immediate heating there is no need of warm up time; So you can meet Rapid pay-back time with No pigment or dye contamination you get Improved quality of the end product.
Technology options available :
For every specific target substance, we provide different technological options to choose from. You can choose from Frequency (RF or Microwave), Batch type process (Replaces Tray Dryer), Continuous conveyer dryer, Air / Hot air assisted drying, Vacuum assisted E-drying, Hybrid approach i.e. Used RF/MW technology in your pre-post stage of your existing plant.
Features:
 Controls can be Custom built specific to your environment, target substances
 Operation panel that is full of ease
 Design that helps for safe and easy operation and maintenance
 Minimized radio field leakage, made to international standards
 Pre-programmable Timer on the display for added ease and to avoid losses due to excess heating