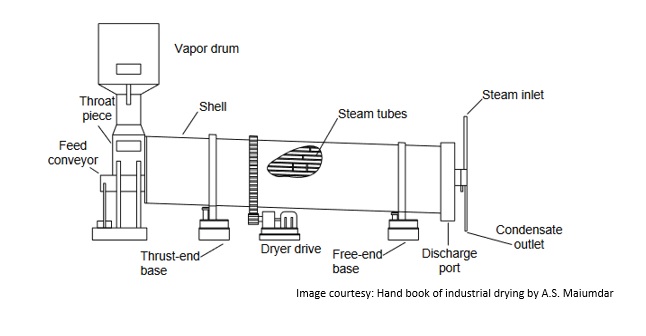 Coal Rotary dryer is a type drying machinery and also known as rotary dryer to dry all kinds of coal. Coal itself is usually of high humidity and high agglutination. The coal dryer developed by Kerone is targeted at these characters and suitable for various particles in coal industry like coal slime, fine coal, tail coal, etc.
Coal Rotary Dryer are highly important for the coal processing market as these devices allow to dry the raw coal and lower the degree of humidity. The industrial grade dryers work on the principle of passing hot air or gas through rotating drums in which the coal tumble and get exposed to the heat, thus causing the removal water from the coal.
Coal rotary dryers are built in a way that promotes equal heating and avoids the potential hazard of ignition. Careful management of the drum's lean, the speed of the drying medium, temperature, and flow rate are key in producing an optimum product for the drying process. It is not surprising that coal rotary dryers result in a more effective utilization of coal resources while improving the final product quality making it easy for storage and transportation.Kerone, Coal rotary dryers provide reduced transport costs as well as diminished implications of environmental harm caused during the combustion process. The innovative approach of coal rotary dryers has become essential.KERONE is pioneer in application and implementation engineering with its vast experience and team of professionals. KERONE is devoted to serve the industry to optimize their operations both economically and environmentally with its specialized heating and drying solutions.
Features of Coal Rotary Dryer
Efficient Drying Mechanism
Controlled Temperature and Airflow
Variable Drum Speed and Inclination
Robust Construction
Dust Control
Automation and Monitoring
Application of Coal Rotary Dryer
Coal Processing Plants
Power Generation
Coke Production
Coal Export Terminals
Mining Operations
Environmental Compliance
Research and Development
Bioenergy Production
Advantages
Efficient Moisture Removal
Improved Combustion Efficiency
Enhanced Energy Efficiency
Consistent Product Quality
Reduction in Environmental Impact
Versatility in Handling Different Coal Types
Dust Control
*Adaptability to Fluctuating Feedstock Characteristics
Cost Savings in Transportation
Long Service Life