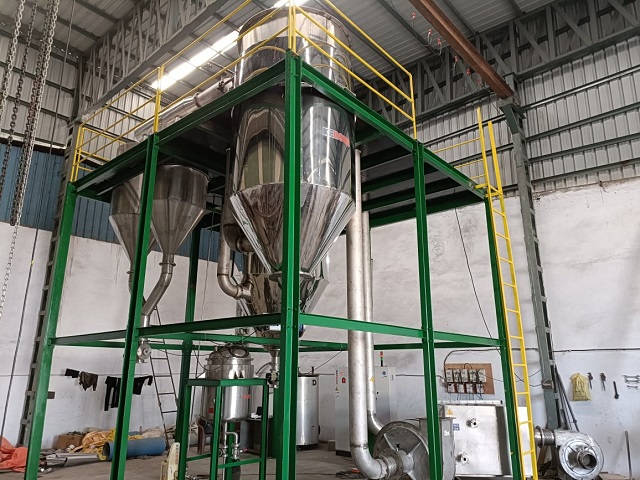 Spray Dryer are highly efficient industrial equipment for rapid drying of liquid feedstock into fine powder. The innovative technology at Kerone employs a process of atomization, breaking down on liquid into small droplets which are exposed to hot air, leading to instantaneous evaporation.
Spray dryers are very effective industrial devices that quickly turn liquid material into fine powder. By using atomization, that divides a liquid into tiny droplets and exposes them to heated air, Kerone's cutting-edge technology produces immediate evaporation.
In order to transform liquid feedstock to fine-grained particles of equal particle size distribution, spray dryers use an advanced atomization system. Our Spray Dryer assures you of optimum product quality, while preserving the properties of all formulations regardless of your area of operation (food, pharmaceutical or chemicals).Our Spray Dryer are designed for flexibility and can process variety of feed streams so that you get the target particle size with optimal moisture content. With the precision in controlling the operating parameters such as temperature, air flow and feed rate, one can have a customized drying profile that is fit for a particular application. Our systems not only optimize effectiveness but also control wastage, thereby giving you the most effective and economical way of meeting your production demands.
We at Kerone, commits to innovation and guarantees you satisfaction. So, you can rely for the next level of drying technology. We have a committed team offering end‐to‐end assistance including consultation, installation and routine upkeep. Take your powder manufacturing experience to the next level with our Spray Dryer technology that brings precision in one bowl with quality and efficiency.

Salient features of Spray Dryer are as follows
Solutions, suspensions, slurries and pastes, which can be pumped, can be dried on spray dryers.
The advantage of spray dryer is rapid and non-contact drying.
Much higher initial temperature of drying medium can be used.
High evaporation rates and thermal efficiencies are achieved.
It can be quickly started and shut down.
It is capable of handling volatile or inflammable solvents in a closed cycle.
Application of Spray Dryer
Food Industry
Dairy Products
Coffee and Tea
Pharmaceuticals
Drug Formulations
Vaccines
Chemical Industry
Detergents and Catalysts
Pigments and Dyes
Ceramics and Advanced Materials
Ceramic Powders
Battery Materials
Environmental Control
Air Pollution Control
Biotechnology
Protein Powders
Textile Industry
Dye Powders
Advantages
High Efficiency
Uniform Particle Size Distribution
Customizable Process Parameters
Preservation of Product Characteristics
Reduced Thermal Degradation
Enhanced Powder Handling
Cost-Effective Production
Hygienic Design
Environmental Sustainability