At Kerone, we provide a wide range of tunnel dryers in different forms and sizes, with variable tunnel construction, tray capacity and size, length, and adjustable conveyer speed, air circulation rate, control panel, and other features. Tray dryers are improved by tunnel dryers, which enable the trays to be mobile. In the air-heated tunnel, the materials to be dried are fed in from one end and retrieved from the other. The term comes from the way it is constructed, which resembles a tunnel. Depending on the technology chosen, a tunnel dryer can finish the drying process while the material is being transferred through the tunnel.
Kerone manufacture diverse tunnel dryers in various configurations with varying types of tunnel construction, size of tunnel and tray capacity, length of tunnel, adjustable conveyor speed, rate of air movement, control panel and more. The tunnel for drying receives material to be dried from one end and they are gathered from the other end. Derived from the name because of its shape similar to tunnels. Tunnel Dryers works in such a way that drying is performed while the materials pass through tunnel dryers selecting the technology for this process.
The tunnel dryers is a widely used product whereby the hot air is utilized for drying but there is an upgrade made today concerning the heating technology which has introduced more superior drying techniques like microwave/RF/infrared. Mostly they consist of an opening door at one end that closed when feeding materials were required. The door gets closed by pushing a tally or travelling through the tunnel with the help of fans. After this is over, the outtake gate opens up and collects the material. In tunnel dryers there are different ways of moving air, circulation, and heating methods differ. There are three distinct sets of arrangement such as counter flow, parallel-flow, and cross/mixed flow.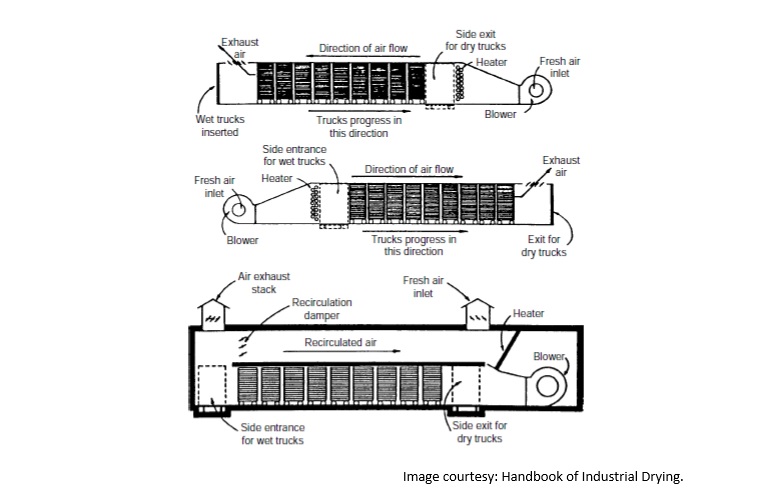 Tunnel dryers have been invented in order to transform the drying procedure for various products including clothing items and food processing. Our tunnel dryers are designed with precision and the best in modern technology for uniform drying on minimal power use. A continuous transport of the material along the tunnel maintains a constant exposure under a regulated thermal and air environment.
Tunnel dryers are set up with specific parameters for different products and at various scales applicable to all industries across the globe. The dryers embrace sustainability by promoting energy and water conservation hence giving your business more reasons to go for it. We are certain that our tunnel dryers will help you increase productivity, decrease downtimes, and ensure top-notch quality for your production processes. Join us as we unravel the future of drying technology, ensuring that every tunnel dryers product exudes quality but is efficient.
The source of heating can be of:
Hot air circulation
Infrared
Microwave
Radio frequency
Feature of Tunnels Dryers
Insulated inner surface to eliminate energy loss and maximum energy efficiency.
High quality heat exchanger confirms stumpy air moisture.
Enhanced handling and improved operational life.
Roller or Belt conveyor to move the material.
Strongly constructed to endure moisture material and changing conditions .
Air circulation system to improve airflow and decrease drying time.
Available in multiple length and width ratio.
Accurately designed and calibrated control mechanism .
Built in both Automated or semi-automated structure .
Minimal environmental losses.
Touchscreen control panel to set temperature and conveyer speed.
Technology of choice can be accommodated .
Uniform drying of all type of material fed as input.
Long-lasting powder coating .
Multiple drying zones can be provisioned.
Modular assembly for stress-free transport and installation.
Exclusively engineered with measured environment for fast, trouble free drying
Air patterns designed for most efficient, safe drying.
Designed to dry a large range of conditions.
Applications of Tunnel Dryer
Drying of Fruits and Vegetables.
Drying of ink and paper.
Drying of coats in Coating line.
Drying of packaging materials.
Drying of plastics caps, spoons, injectable vials, containers.
Drying of Pharmaceutical tablets and powders .
Drying of textile fabrics.
Drying of fresh fruits, roots, vegetables and eggs.
Drying of confectionaries and food processing.
Drying of moulded Ceramics.
Sterilization of containers and packaging materials.