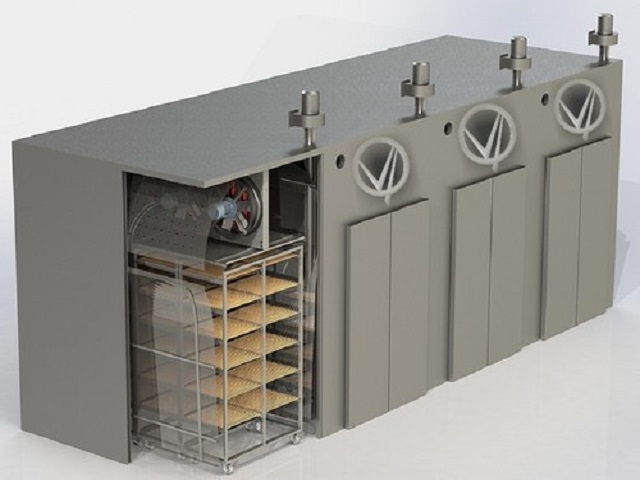 Box dryer, often referred to as a drying chamber or drying system, is a specialized industrial equipment designed to efficiently and precisely remove moisture or water content from a wide range of materials and products. This versatile drying apparatus typically consists of a sealed chamber equipped with temperature and humidity control mechanisms, as well as air circulation systems.
KERONE is leading supplier and manufacturer of box dryers in order to use them in many different processes. Our huge experience enables our clients trust in our engineering solution since we keep it going since 48 years. So far, we have made different kinds of box dryers while considering client's needs on priority basis. Proficiency in the design and manufacture of box dryer makes these dryers to be highly valued for pharmaceutical, foodstuffs, chemical and other industries.
Conventional process uses box dryers and gets the best output. It is also easy to choose how air is going to pass within the box dryer making it suitable for many applications. Axial-flow type blower fans, which are dynamically positioned in the drying chamber give the necessary air circulation during the process.Specified amount of period is dedicated for insertion of materials to be processed in box dryer on container or tray inside a dryer. Box driers comprise of a double-walled cabinet with a door and/or door(s), and fibre glass wool insulating material placed in between the narrow gaps of the two walls so as to minimize process heat loss.
Tray Moving Dryer
Custom design dryers that are modified conventional type of tray dryers are refered as Tray moving dryer. Another type is in-tray moving dryer referred to as up-down drying contains two airflow chambers with opposite directions and a conveyor trays to move the tray within the dryer. Then the elevator that moves the tray to top of chamber one. Immediately, moving the tray horizontally in chamber two and subsequently elevator down to outlet (exit). To ensure that air dries from both top and bottom, the airflow in each chamber gets a different direction. We manufacture the dryers based on specified customer need in Kerone.
Application of Box Dryers
Agricultural Products Drying
Fruits and Vegetables
Wood Drying
Food Processing
Textile Industry
Pharmaceuticals
Chemical Industry
Research and Development
Seed Drying
Ceramics
Plastics Industry
Advantages of Box Dryers
Uniform Drying
Versatility
Controlled Environment
Gentle Drying Process
Batch Processing
Energy Efficiency
Ease of Operation
Space Efficiency
Features of Box Dryers
Adjustable Temperature Control
Uniform Air Distribution
Timer and Programmable Controls
Multiple Trays or Shelves
Insulation
Observation Windows
Airflow Adjustment
Safety Features
Stainless Steel Construction
Compact Design
Easy Loading and Unloading