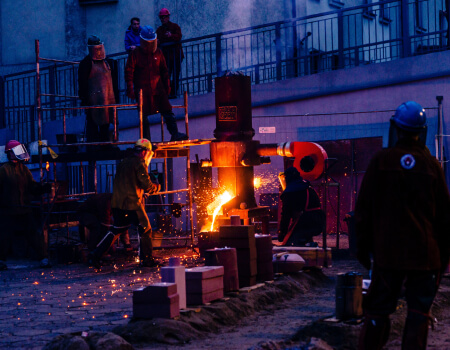 In Foundries atmosphere and process methods are totally different from other industries. In spite of this we are in a position to give solutions Hardening of foundry moulds, core drying are some of the functions carried out . There is uniform heating through out the entire material thus distributing the heat equally . Different technological options are available depending upon requirements of clients like continuous conveyor dryer, hot air assisted dryer etc.
Applications in Foundry :
Though Foundries have their different set of processes our modern technology has solutions for them to. It can easily accommodate common foundry functions like De-waxing of casting moulds, Drying of casting moulds, Hardening of foundry moulds, Regeneration of casting mould waxes, Removing of solid objects from moulds(boards, lids etc.), Core drying.
Advantages :
Due to self contained heating cavity, workplace environment is more improved and secure at the same time there is no radiated heat loss. It helps Uniform heating through entire thickness of the various materials. As all the generated heat is concentrated on the substance/materials it is 2 to 20 times faster, Energy efficient and Eco- friendly than conventional drying methods. Our products help in drying the materials uniformly and there is equal heat distribution throughout the particles; the outcome is uniform too, may it be colour, finish or moisture. The products are made with state of the art technology with very low maintenance compared to conventional heating equipments.
Technology options available :
For every specific target substance or material, we provide different technological options to choose from. You can choose from Frequency (RF or Microwave), Batch type process (Replaces Tray Dryer).
Continuous conveyer dryer, Air / Hot air assisted drying, Vacuum assisted E-drying, Hybrid approach i.e. Used RF/MW technology in your pre-post stage of your existing plant.
Features:
 Controls can be Custom built specific to your environment, target substances
 Operation panel that is full of ease
 Design that helps for safe and easy operation and maintenance
 Minimized radio field leakage, made to international standards
 Pre-programmable Timer on the display for added ease and to avoid losses due to excess heating