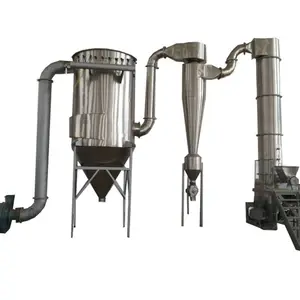 KERONE is specialized in designing and producing of numerous kind of customized Flash dryers also known as Pneumatic/ Flash Dryer. We as having over 48 plus years of expertise in providing many kind of flash dryers for numerous application. Our experience with Infrared and traditional flash dryers had made us well versed with the applications where performance of flash dryers is improved by utilizing Infrared radiator as main source of heating.
Pneumatic/ Flash Dryer an  industrial drying technology meant to revolutionize the drying technology. To achieve quicker and more efficient drying times for a variety of fabrics, our dryer is designed with a high degree of precision and innovation using pneumatic technology. We provide low energy costs and uniform drying for the chemical, pharmaceutical, and food industries with our Pneumatic/ Flash Dryer.
We have a special method that utilizes hot, fast moving air to quickly and effectively release excess moisture from the product's surface. To achieve higher quality products with faster speed of drying process while preventing any damages on your material. Our dryer's pneumatic function enables us to perfectly control temperature and airflow depending on some applications' needs.Pneumatic/ Flash Dryer are able to handle a broad spectrum of geometries and particle sizes. It possesses high compatibility and hence can easily be adapted into every production line, occupying minimal space yet delivering expected results. In addition, our dryer systems have user-friendly controls and are programmable for users to set their preferred conditions.Several factories are using a Pneumatic/ Flash Dryer in their processes with good environmentally friendly results. In order to achieve better drying operation, higher capacity, reliability and dependability you need increased production of Pneumatic/ Flash Dryer.
Features of Pneumatic/ Flash Dryer
Height adjustment for heating panel should be parallel to the pallet
Timer, controller
Remote start pulse
Cooling fans with high volume, pressure
Auto, manual switches
Digital control panel
Caster wheels (brake wheels 2 No) nylon wheels
Distance between pallets to floor lever app.
Height deviation up to 250 mm from pallet
All wiring, ducks on the portable system would be nicely done
Advantages of Pneumatic/ Flash Dryer
High-Speed Drying
Uniform Drying
Versatility
Compact Design
Energy Efficiency
User-Friendly Controls
Quality Preservation
Application of Pneumatic/ Flash Dryer
Food Industry
Pharmaceuticals
Chemical Processing
Minerals and Mining
Environmental Remediation
Textiles
Biomass and Bioenergy
Plastics and Polymers
Ceramics
Waste Management