Kerone's fluidised bed dryers find application in drying of granular materials, pastes, solutions, suspensions, and molten materials in both a batch and a continuous type of model. Kerone provides complete solution from design, manufacturing, erection, commissioning and after installation support. We are having over 48 year experienced in providing the quality product and services in drying and heating segment.
Fluidised Bed Dryers provided the good solid mixing, high rate of heat and mass transfer and transportation of material. Fluidized bed dryers are more suitable for the drying of fine powder particle sizing from 10 to 2000 mm as compared to other conventional drying methods.
Fluidised bed dryers is achieved by passing a gas stream from the bottom of a bed of particulate solids. At low velocity of gas the bed stays in static condition, and the particles lay on a gas distributor plate. The fluidising gas passes through the distributor and it is uniformly distributed across the bed. The gas velocity is increased such that to achieve the fluidization of bed, gas velocity at which the bed achieves the fluidization is known as minimum fluidization velocity.
A Fluidised bed dryers operates at gas velocity higher than the minimum fluidization velocity of material under processing. This increase in the gas velocity result in suspension of particles under processing in air, this appears as the boiling of solid particles of material under processing.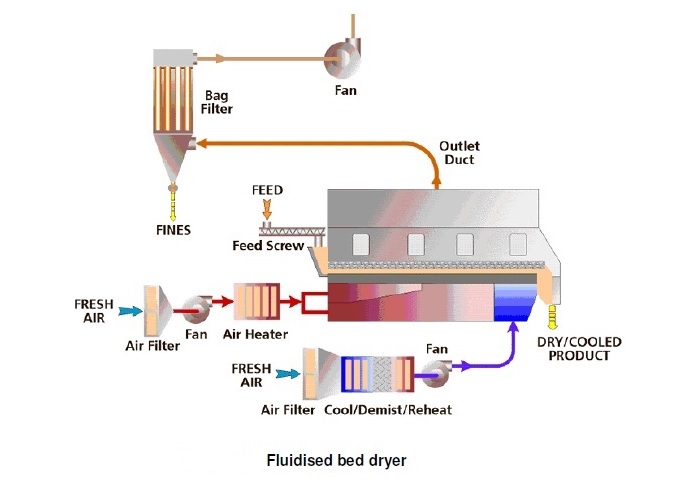 Features of Kerone's Fluidised bed dryers
Materials dried in a constant-rate drying
Drying of material with low moisture content, under a relatively low temperature.
Suitable for granules or crystallized materials as there is no damage to particles.
High drying efficiency
Modular Design
Uniform Drying with reducing Drying time
Provides extended residence times
Fireproof Construction
Easy to remove/change heat exchanger
Flexibility of residence time and temperatures
Applications of Kerone's Fluidised bed dryers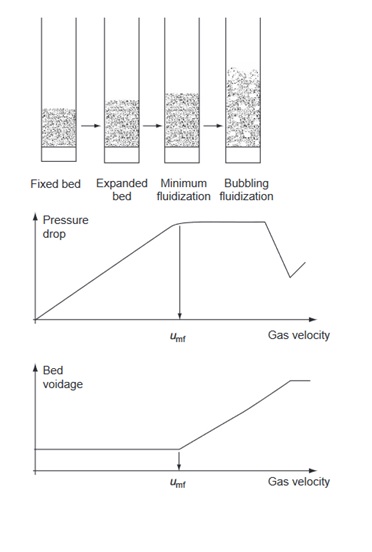 Chemicals
Carbohydrates
Foodstuff
Biomaterials
Beverage Products
Ceramics
Pharmaceuticals in Powder or Agglomerated Form
Health- Care Products
Pesticides and Agrochemicals
Dyestuffs and Pigments
Detergents and Surface-Active Agents
Fertilizers
Polymer and Resins
Tannins
Products for Calcination
Combustion
Incineration
Waste Management Processes
Environmental Protection Pro- Cesses