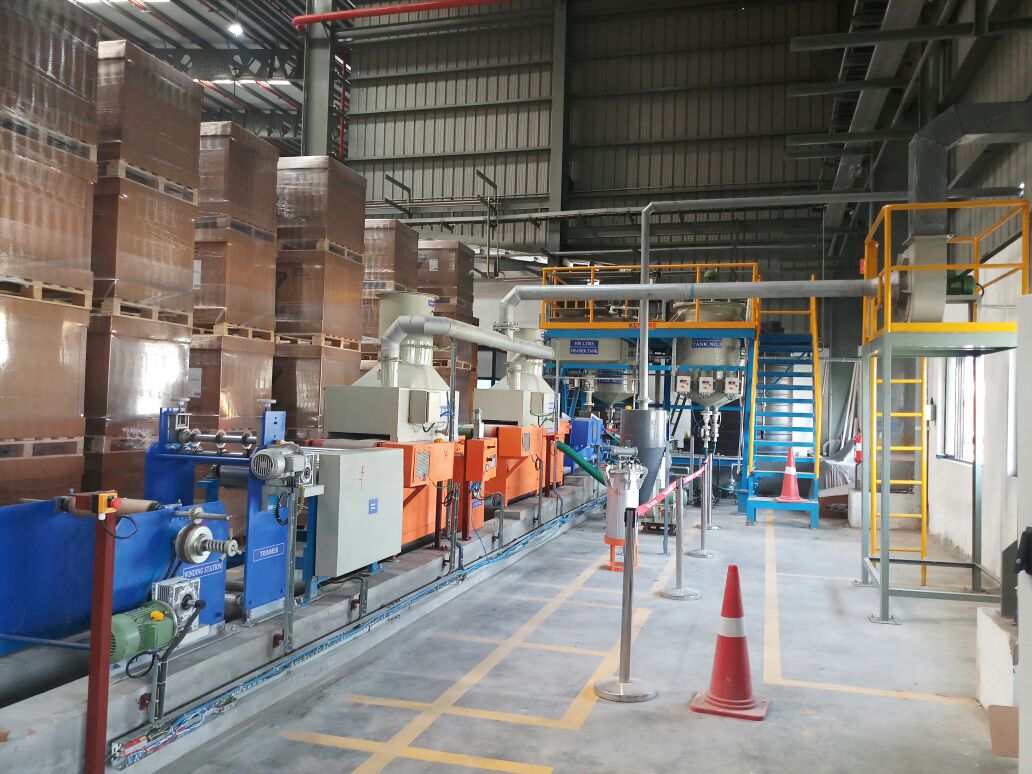 WET LAID PAPER PLANT / MACHINES
We at KERONE are having  48 years experience in designing and manufacturing various types of specialized industrial machineries for the processing need of our clients.
Wet Laid Paper Plant / Machines is a specialized industrial plant designed to produce wet laid paper plant / machines. The process, however, different from common dryer-type paper drying methods, can, for example, be adapted to the manufacture of non-conventional special paper that require specific properties. Basic component of paper mill hydration incorporates wood fibers, water and certain ingredients mixed with the materials. This makes a dirty wet mixture thoroughly mixed.
The slurry is then transferred to a mesh conveyor/continuous film where moisture is drawn out of fibers, which start binding to create wet-paper mesh. Additionally, mechanical and other chemical washes are employed for cleaning the inner part of paper reinforces and reinforcements. It involves pressing, drying, and rounding the wet fiber into rolls or sheets for subsequent processing or conversion into multiple types of paper material The machinery used in making wet laid paper/machine also often needs specialized services. One good example is the need for high-quality paper filters for there mold
Kerone's manufacturing of batter separators for the internal and external materials considering the precise sizes and heat distributions demanded.
Glass Fibre Paper Plant
Wet Laid Glass Fibre Paper Plant
KERONE has vast expertise in the development and production of wet laid paper plant/machines, or battery separator paper machines capable of catering to different applications relevant to the Plant. Based on the dimension of our clients, we create glass fiber battery separators paper as well as wet laid papers plant.
Features of Wet Laid Paper Plant / Machines
Wet-Laid Process Expertise
Precision Fiber Distribution
State-of-the-Art Technology
Environmental Sustainability
Customization Capabilities
Efficient Production Processes
Quality Assurance Measures
Skilled Workforce
Application of Wet Laid Paper Plant / Machines
Filtration Industry
Battery Separators
Technical and Industrial Papers
Printing and Packaging
Hygiene Products
Art and Specialty Papers
Advantages
Uniform Fiber Distribution
Versatility in Fiber Types
Precise Control of Sheet Formation
Energy Efficiency
Reduced Environmental Impact
Tailored for Specialty Papers
Consistency in Quality