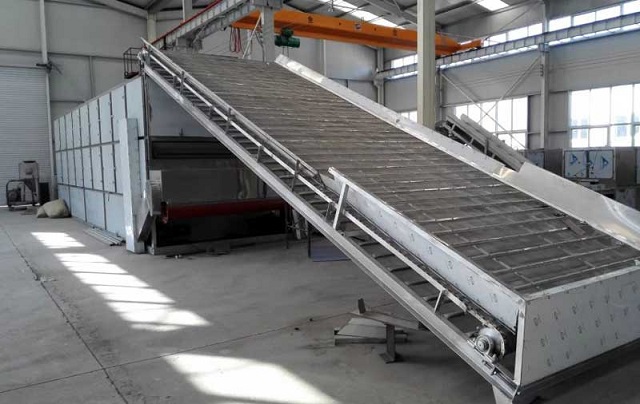 At Kerone, we produce high quality band dryers which are belongs to family of continuous conventional heat transfer type dryer. Imperial and Band Dryer consist of conveyor belts mounted one above the other like multi stacks. Multilayer helps in achieving long residence time, multi-pass units in limited floor space. Multiple modular sections with independent heating and air circulation system are used to created Band dryers. The commonly used continuous band dryer encompasses of single pass conveyor employing through air circulation.
Kerone manufactures the conventional continuous heat transfer Imperial and Band Dryer. In both imperial and band dryers, there is a number of conveyor belts that lay on top of each other. This allows for long residence times and multiple pass sections even in space restricted environments. A band dryer consists of multiple modular elements, each having a separate air circulation and drying facility. A commonly employed continuous band drier features a single pass conveyor and employs moving air.
In order to achieve equal access and treatment, hot air is circulated either downward, upward or combined together. The feeding, spreading, cleaning, heating and cooling sections are commonly fitted on band dryers. Kerone band dryers will handle all kinds of product: delicate, sticky, pasty, anything that demands thoroughness and long residence time.The Imperial and Band Dryer is durable and has sophisticated capabilities to meet industry demand. The innovative design offers adjustable ambient temperatures as well as airflows that will enable it to adapt to individual dryness necessities of diverse substances. Imperial/Band Dryer technology ensures the delicate and uniform drying, reducing the probability of the product spoilage with optimum throughput.Our Imperial and Band Dryer comes with intuitive controls and an easy to use interface that makes it easy to operate and more productive. Apart from saving operational cost, its energy efficient design is environmentally friendly. This is designed for robustness and high-reliability that ensures it will serve consistently.
Type of conveyor supported
Continuous perforated belt
Hinged perforated plates
Wire mesh
Wire and struts belt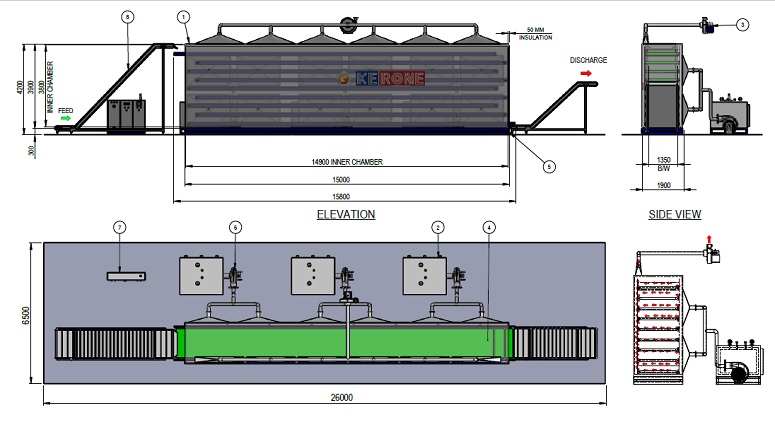 Industry Applications of Imperial and Band Dryer
Energy saving due to gas recycling
Highly homogeneous treatment
Adjustment of temperature, gas velocity and direction in each section
Multiple processing in one single equipment
Versatility of processes and applications
Accurate adjustment of residence time
Possibility to add accessories for mechanical action on product
Features of Imperial and Band Dryer
Easy zoning: The temperature, humidity and airflow speed can be easily set and controlled for each zone
Uniform Drying: The drying time can be easily attuned to achieve consistent heat progress, results in evenness of drying across product.
Clean Drying: Materials are dried with in the band dryer's chamber with uniform moving speed this results in minimum damage and dust sprinkle.
Product suitability: Band dryer allows grinding and shaping of sludge or irregularly shaped materials.
Multi Staging: Band dryers can be made with single stage or multi stage with capability to handle both high volume or low volume.
Customisable: Imperial and band dryers can be made with different configurations such as heat source (Hot Air, Oil, electric etc.), humidity (humidifier, dehumidifier etc.) and air circulation (from top, down, vertical, horizontal etc.)
Advantages
Continuous Operation
Uniform Drying
High Heat Transfer Rates
Adjustable Temperature and Airflow
Compact Design
Ease of Maintenance
Reduced Product Handling
Energy Efficiency
Versatility
Cost-Effective for Large-Scale Production