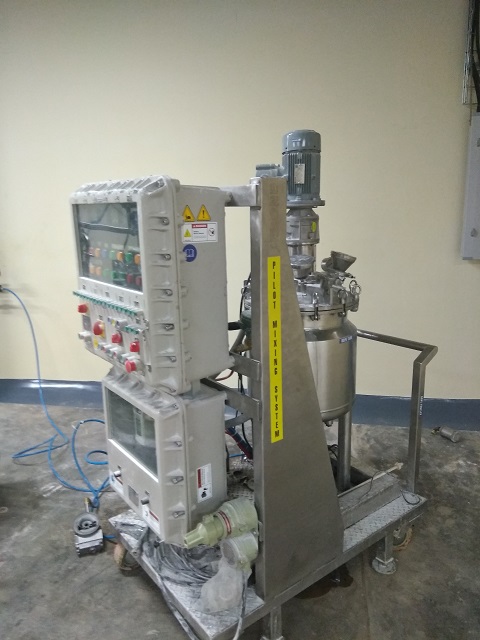 Kerone is engaged in producing and supplying a large assortment of Vertical blender. We can also custom design a system for your requirements. The offered range is manufactured utilizing premium quality raw material and advanced technology in compliance with the international standards.
Vertical Blenders are an excellent choice for mixing solid to solid, solid to liquid or liquid within liquid. Kerone unique vertical blenders have specially tailored designs for profoundly trimmed applications or when the floor area in any plant is rather limited.
Most of them have vertical blenders which have spiral mixing blades that cause three dimensional flow of goods resulting into helical rising motion at the edge of the mixer while down flowing takes place in the middle portion of the mixer. Kerone vertical mixing machine ensures superior mixing results coupled with perfect dispensing. During operation, the mixer and the screw turn in different directions – one turns the other way up.The screw in vertical blenders has less activity as compared with the one of a horizontal blender. In addition, the screws' movements make the material move upward or downward as well. At the top of the rotating conical vessel, they force the material forward into the center where it is then discharged by gravity to go down along the direction of the screw rotational motion.
Features of Vertical Blenders
Homogeneous Blending in short Time
Blending With High RPM
This blending machine is specially designed to reduce operation cost and time
Long working life
User friendly design
Less Electrical Power Required
Blending With Vertical Auger
Less Ground Space Required
Feed and Unloading at Ground Operating Level
Substitute for Cone, Vertical cone Mixture
Liquid Addition Arrangement
Advantages of Vertical Blenders
Gentle blending action is ideal for friable or shear sensitive materials.
One blender can be used for a wide range of batch sizes, ranging from as small as 10% of the rated capacity.
Nearly 100% of the blended materials are discharged through the bottom valve after completion of the blend cycle.
Use nearly 50% less power per unit being blended.
less floor-space and are ideally suited to multi-story facilities.