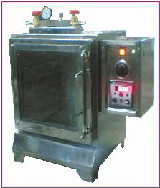 The Vacuum oven manufactured by the KERONE is designed and built strictly as per the need and requirement of the client. The Vacuum Oven/ Vacuum dryers operates under the vacuum i.e. air free condition hence the heat transfers is by the way of conduction or radiation.
The Vacuum Oven or Vacuum dryer has been designed for temperature controlled heating and drying applications which involves an unventilated environment free from air. It can be used in a range of laboratory experiments due to its capability to hold high level of vacuum. They are most commonly used in annealing and clean evaporation of samples. It has a stainless steel construction having observation window, gasket doors with tough latch. Other Paraphernalia includes easily readable vacuum gauge, adjustable thermostat with digital read out and two valves for bleeding. A low wattage thickness heater is set in the inward chamber with fitting protection for heating reason. The temperature is controlled by indoor regulator or advanced controller. Mercury in glass thermometer can be embedded structure the top with legitimate fixing. Stand and trays are given to keep the samples to heating.The minimum level of vacuum maintained buy the vacuum Infrared Oven is 3*10-6 Torr. They operate at 800°C temperatures and use a low atmospheric pressure. The quartz tube elements in the reflector are used to maintain the temperature uniformity in the hot zone and the outer temperature is maintained by the water cooled walls. Vacuum Infrared Ovens operate in cycle mode but also have manual and maintenance mode.
Applications
Contamination free storage devises
Heating and drying when oxidation is an issue
Equipment / tool drying
Moisture determination
Dry content analysis
Out Gassing Solids
Aging Tests, Plating
Chemical Resistance Studies
Drying of Paper
Rubber and Textiles
Desiccating
Dry Sterilization
Out Gassing Liquids
Vacuum Storage
Electronic Process Control.
Construction
Stainless steel chamber having different limits and capacity to withstand supreme vacuum is put in external MS bureau and loaded with glass downy protection. The chamber if fitted with a thick glass entryway with brilliant perceivability. It has a fixing of silicon or neoprene elastic gasket which is effectively replaceable. The external bureau is powder covered. The vacuum gage and valve is mounted on the top.