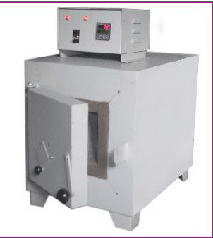 KERONE is having 40+ years experience in helping its client's need of complete engineering solution with the commitment to provide the quality products and economical cost, the Ultraviolet cabinets that we designed and manufactured is known for the its quality and long life performance.
The U.V. Cabinets are utilized for chromatographic investigation utilizing ultra violet fluorescence under research center lightning condition. It makes the operation fats straightforward and helpful with its autonomous control at the top.It is an independent unit designed to view and make chromatograms furthermore to use all in all fluorescence studies. The cabinet contains long wave, short wave ultra violet light and white light in a smaller table top which accommodates three method for finding and recognizing parts. The chromatograms can be seen with 3600-4000 A long waves or 2500 A short wave ultra violet light or white light. The ultra violet lights can be utilized as a part of mix for the obliged reason. The dark shade guarantees dimness and splendid lightning in the cabinet and in the meantime permits the client to handle the specimen and switches no sweat.
Development:
The cabinet is made of durable metal with two side handles for simple transportation. The switches are fitted on the top for simple taking care of.
Application:
They are utilized as a part of identification of hints of minerals and investigation of old examination.
Long wave:
fluorescence spots on the chromatograms help in finding mixes, for example, color stuffs, vanillin's flavones and alkaloids and so on.
Short wave:
They are utilized to spot substance, for example, barbiturates purine and pyramiding subsidiaries, PHT – amino acids, DNP amino acids and steroids.