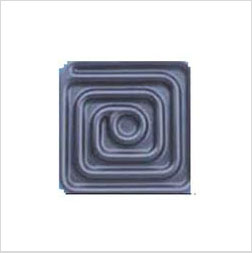 Super High Temperature Black Infrared Heaters
Super high temperature radiators were developed to increase the previous maximum possible surface rating of ceramic panel radiators from 64 kw/m2 to 77 kW/m2 These radiators, produced using the hollow casting ceramic process, are filled with thermal insulation material and have a special black gaze and a gold-plated back.
At an operating temperature of 900°C, over 75% of the electrical energy supplied is transferred to the material to be heated as medium to long-wave IR radiation. These series radiators are therefore particularly suitable for use in plant construction in which special Solution have to be drawn up for the customer's specific needs and for applications requiring high Outputs. The four designs cover the power range from 300 W to 1200 W and have customary market dimensions. Existing IR equipments can therefore be retrofitted with these series radiators.