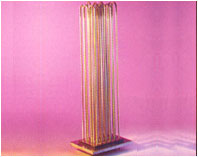 Space Heaters Embedded Elements and Metal Casted Elements
A space heater is a device for heating an enclosed area, we at KERONE are having veteran team of engineers and designer those continuously strive to provide the best product to client for their process need across the world.
Space Heaters Embedded Elements and Metal Casted Elements offered comprise bundles of heating material that are grouped together for heating any space where the heat transfer can take place through means of conduction, convection or radiation, depending upon operating temperature as well as the method employed. These embedded elements function as heaters embedded in metal/non-metal casing so as to achieve uniform heating. Further, these are also used in hotplates for heating larger surface area as well as to result quicker dissipation of heat. With heat emitted through radiation taking place in different air flow levels, these elements can also be used in ducting as well as hot air batteries. Being available in different operational range of 3 KW to 450 KW and we provide the mechanism to control the heat.
These are heaters embedded in a metal/non-metal to give uniform heating and are used in hotplates to give lager surface area which helps in faster dissipation of heat which in turn increases the life of the heating element.
Material used for encasing area:
Copper
Aluminum
Mild steel
Lead
Ceramic
Features:
Rugged and light weight construction
Easily Controllable heat transfer
Little and trouble-free maintenance
Solid construction
Swift and Easy installation
Accurately designed and engineered
Hassle-free functioning
Longer service life
High durability
Energy and Cost efficient
Proficient performance
Application:
Chemicals processing
Fertilizers
Pharmaceutical Industry
Hot water generators
Boilers
Other industry sectors.