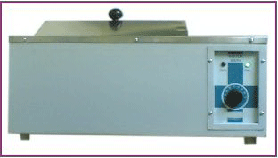 KERONE is trusted name by its clients for their critical need and process requirements. The Serological Water Bath designed and manufactured by KERONE is of high quality and highly developed technology to meet the everyday's bacteriological and laboratory applications requirement those require incubation as well as general tests.
Serological Water Baths are also used in diverse practices such as Wassermann kilmer test, tissue culture application, enzyme reaction studies, growth observation studies, fermentation analysis and several other specialized applications. KERONE have designed and manufactured the Serological water bath by using sophisticated machines and expertise keeping in minds the necessities of our clients.
Construction Details:
The Serological Water Bath commonly has Double wall construction, Complete Inner chamber made of Highly Polished Stainless Steel. Outer body of serological water baths is constructed with of thick PCRC steel sheet, duly pre-treated with primers for rust proof and painted with air drying paint/stove enamel/powder coating. Gap between the walls of serological water baths is filled with special grade glass wool for proper insulation to avoid any heat loss. The serological water baths is providing with a drain plug to facilitate easy emptying and cleaning of the inner chamber whenever necessary.
Heating :
Air heaters made of Kanthal A-1 wires of suitable wattage is used to provide indirect heating. The warm air is evenly distributed within the chamber via natural water convection mechanism ensuring very good temperature sensitivity
Temperature Range:
The temperature of the standard Laboratory Ovens ranges from 50°C above normal to 90°C. However, the capacity of the standard model can be modified to suit the specialized requirement of the individual customers.
Temperature sensitivity :
The temperature inside serological water bath unit is controlled with the sensitivity of ± 0.5°C or much better with PID controller
Front panel :
Front Panel of serological water bath unit consists of on/off switch, heating and mains indicator lamps, thermostat or temperature controller.
Salient features :
Multipurpose usage.
Ergonomics Design
Energy efficient.
Extensive operational Life.
Minimum Maintenance.