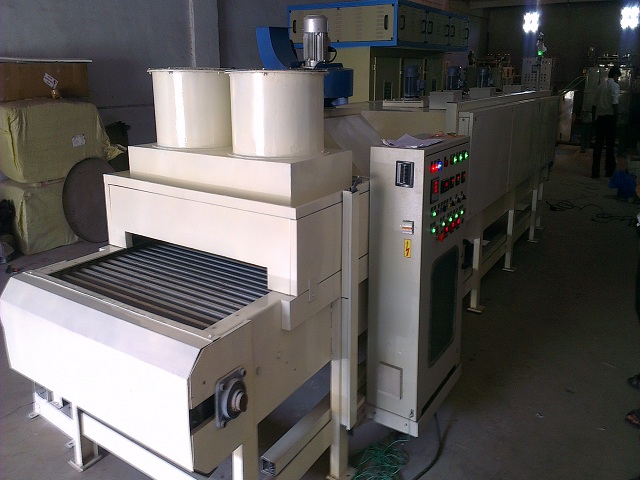 In radio frequency (RF) industrial dryer material to be dried is placed under the RF generator producing the high frequency alternating fields between its two electrodes. This alternating fields causes the polar movement in water molecules this results in friction with in the material water molecules, this friction causes the heating within the material.
Radio Frequency Dryer allow sufficient amount of energy that is applied to converts the water/ solvent in to steam and evaporate from the material that results in drying of material.The heat is generated within the material hence there is no losses in terms of conduction of heat in surrounding, radio frequency (RF) industrial dryers are highly controllable as the rate of heat production is proportion of radio frequency energy supplied to the materials. Radio frequency industrial dryers manufactured by Kerone help in achieving exceptional output quality of the dried material as the RF dryers are designed to eliminate any type of losses, so that the material is uniformly heated to desired level.Kerone is holding vast experience in designing, manufacturing and installation of customized Radio frequency (RF) industrial dryers for various industrial applications based on the need and suitability of client's process requirements. The radio frequency (RF) dryers manufactured in Kerone are strictly follow the defined international standards.
Advantages of Radio Frequency Dryers:
Radio Frequency heats items straightforwardly and through the thickness of the item. This results in quicker drying.
Radio Frequency heats from inner surface material and not much constraint with its conducting ability.
No overheating of material under process
Distinctive materials heat at diverse rates so it is conceivable to high temperature one and only piece of a composite material or to dry a covering without warming the substrate. This enhances item quality by not heating touchy materials.
Spontaneous ON/OFF control
Environmental friendly and very clean process.
Selective heating can be achieved as the heating happens from within.
Radio Frequency Heater/Dryers save operational cost by saving time, energy and increased controlled heating
Uniform heating at the desired speed
Uniform level of moisture in output material as the wetter areas observes the more RF energy and results in more evaporation.
The load may be supported by electrodes or conveyed under or between them. Self-supporting webs or strands need not touch anything, thus avoiding surface marking and contamination.
Feature of Radio Frequency (RF) Heaters:
Designed to handle wide range of Products.
PLC control with fault identification.
Low Maintenance.
Superior quality processed product at highest rate of production.
Flexible, accurate and effective at low rates of energy utilization.
Meets appropriate regulations all through the world.
Batch Type Front opening Radio Frequency (RF) Heater/ dryers.
Conveyorized continuous Radio Frequency (RF) heaters/dryers.
Application of Radio Frequency Dryers:
Drying of wood pulp or paper in the process.
Drying of meal, flour, grains, seeds, beans.
Drying of textile yarns and fabric.
Drying of ceramic.
Drying of water-based coatings.
Drying of inks and adhesives.
Drying and moisture from webs, sheets, & boards.
Drying and moisture from bulk materials.
Drying of fiberglass yarn.
Drying water-based inks.