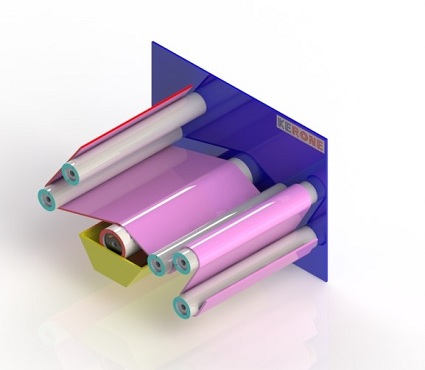 Metering Rod (Mayer Rod) Coating Machine
In Mayer rod coating process, an overabundance of the coating is saved onto the substrate as it disregards the shower roller. The wire-wound metering rod, at times known as a Meyer Rod, permits the coveted amount of the coating to stay on the substrate.
Metering Rod Coating Machine is a process of surplus coating that cast upon the substrate which ignore the shower of roller. Occasionally referred to as a Mayer Rod Coating Machine , the wire wound metering rod allows for the desired level of the coating to remain on the substrate. This quantity is regulated through the diameter of the wire employed on the rod. It, however, shows high tolerance to non-accuracy development of different segments of the coating machine during process building.
It uses a container feeder applicator roll that transfers excess amounts of coating onto the webbing followed by either a straight metering rod (smooth metering rod) or a wire-wound Mayer bar (wire-wound rod) to smoothen or meter the Variations of the coatings weights are achieved either through varying web tension over the flat roll or wired wound rods having different wire sizes which produce bigger ones resulting in more coatings weight. The point of wrap on an applicator roll and a metering rod is also used in controlling cover weights.These types of coater are particularly dominant in their use as pre-coater or back wetting coater for boards because it allows for extremely smooth surface base upon which secondary or top coat can be made.One of the largest and most important coating systems. It is a stainless-steel rod coiled hard with wire of varying girths made of stainless steel. Doctor of the excess coating solution as well as control the coating weight by the rod is used. The wet thickness following doctoring is regulated by the width of the winding wire used on the roll, approximately being only one tenth of the latter. The range of coat weight will depend on rods that come in a variety of wire sizes. Refer to the table below for the available wire sizes and achievable wetness level. The dry thickness is governed by the solids centralization of the coating solutions.KERONE has over 48 years of design and manufacture experience providing tailor-made systems for industrial processing including coating as well as impregnation plants. The type of Metering Rod (Mayer Rod) Coating Machine have been producing with extensive experience will greatly meet the needs of our consumers based on their businesses' specifications. In the production of the Metering Rod coating machines, the internal and externals materials used were of higher quality in order to achieve a neat coat and uniform heating.
Features of Metering Rod (Mayer Rod) Coating Machine
Metering Rod System
Substrate Handling
Coating Material Supply System
Adjustable Coating Thickness
Drying or Curing System
Control System
Cleaning and Maintenance
Safety Features
Versatility
Customization Options
Application of Metering Rod (Mayer Rod) Coating Machine
Paper and Board Industry
Flexible Packaging
Labeling and Converting
Photographic Film Manufacturing
Textile Industry
Battery Electrodes
Converting Industry
Printing Industry
Medical and Pharmaceutical Industry
Automotive Industry
Advantages of Metering Rod (Mayer Rod) Coating Machine
Precision Coating Thickness Control
Consistent Coating Quality
Wide Range of Coating Materials
High Production Speeds
Low Maintenance Requirements
Customization Options
Reduced Waste
Suitable for a Variety of Substrates
Ease of Operation
Environmental Considerations