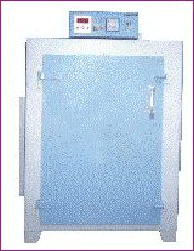 Laboratory Oven Air Draft
KERONE is one of the leading suppliers of standard and customized laboratory Ovens air draft to meet the specialized needs of market, laboratory air draft oven incorporates a heating system with motorised blower unit at bottom side of oven.
The blower blows fresh air through a heating platform and enables hot air draft in the operating chamber generates consistent temperature all the way through the chamber. The surplus hot air with fumes and moisture poured out via regulating ventilation. Air draft system is suitable for soaked, wet and moist materials. Best works for pre heating, drying, sterilizing, baking, aging, etc.
Heating
Air heaters made of Kanthal A-1 wires of suitable wattage is used to provide indirect heating from three sides. The warm air is evenly distributed within the chamber via natural convection process.
Temperature Range:
The temperature of the standard Laboratory Ovens ranges from 50°C above normal to 250°C. However, the capacity of the standard model can be modified to suit the specialized requirement of the individual customers.
Temperature sensitivity:
The temperature inside the unit is controlled with the sensitivity of ± 1°C or much better.
Front Panel:
Front Panel of the unit consists of on/off switch, heating and mains indicator lamps, thermostat or temperature controller.
Temperature control:
Hydraulic type German thermostat (sensitivity ±2°C) or Microprocessor is used to maintain the temperature inside the incubator based on temperature controller and indicators.