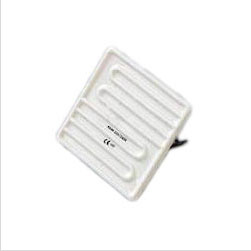 Insulated Ceramic Infrared Heaters
At KERONE we are known for addressing the need of customer's process, Insulated Ceramic Infrared Heater is a special type of heater with proper insulation on the backside with extremely efficient heat insulation material. They have a very long life even when used regularly.
The special insulation keeps the internal parts safe and higher temperatures can be achieved easily without any risk or trouble.The insulation minimizes the heat losses and reduces the temperature in the wiring area. Hence, this can be regarded as energy saving product. These heaters are available in various shapes with different power capacity up to 1000w.
Features:
We make available this type of heater in standard size of
High temperature up to 900 degree centigrade
Fast heat up time approx. 2 minute.
Compact Size
Can be installed easily
Application:
Thermoforming
PVC paste coatings on fabric
Powder coating
Paint Baking
Tempering glass
Soldering Printed Circuit Boards