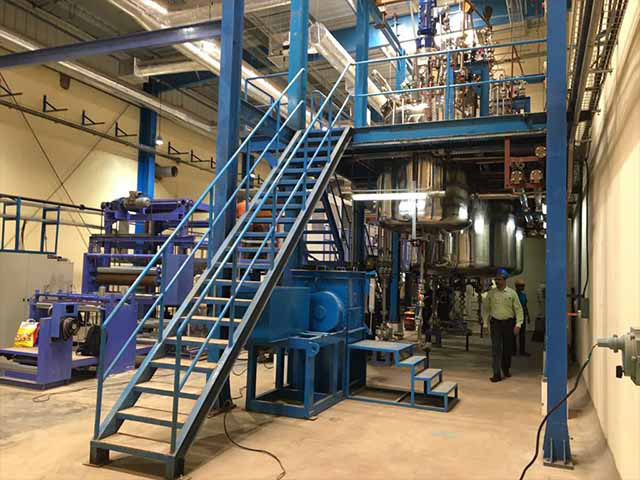 Industrial Scale Hot Melt Adhesive Plant
Industrial scale Hot Melt Adhesive Plant is highly productive having ability to handle complex coating needs. KERONE's Industrial scale (complete) adhesive plant helps in accommodating specialized requirement of customization, each system is design and nurtured by team of experts.
We are pioneers in the Industrial Scale Hot Melt Adhesive Plant and have successfully integrated advanced equipment with contemporary solutions into a plant that meets the diverse needs of various industries on an industrial scale. It has modernized facilities with sophisticated equipment and automated processes, which guarantees accuracy in manufacture.
We aim at high-quality in every stage starting with procurement of raw material that would be put through stringent quality assurance mechanisms. This results in a variety of hot melt adhesives that surpasses industry requirements. We have a highly experienced team of the professionals who understand how to manufacture customized adhesives suitable for various customers' applications in mind.KERONE is pioneer in application and implementation engineering with its vast experience and team of professionals. KERONE is devoted to serve the industry to optimize their operations both economically and environmentally with its specialized heating and drying solutions.With our coating solution help our client to be step ahead from time for technical advancement, our Industrial or commercial scale (complete scale) Adhesive plant are well known for below features:
Features of Hot Melt Adhesive Plant:
Simplified and easy to operate but very effective control system.
Lesser or minimum human interface, automated completely.
Precisely build machinery after all calculation so that accurate repeatability is achieved.
Technically advance implementation to offer long term committed performance .
Wastage control mechanism
Thickness control with exact level of tolerance
Application of Industrial Scale Hot Melt Adhesive Plant
Packaging Industry
Automotive Manufacturing
Textile and Apparel
Bookbinding and Printing
Product Assembly
Hygiene Product Manufacturing
Footwear Manufacturing
Woodworking and Furniture Industry
Filter Manufacturing
Electronics Industry