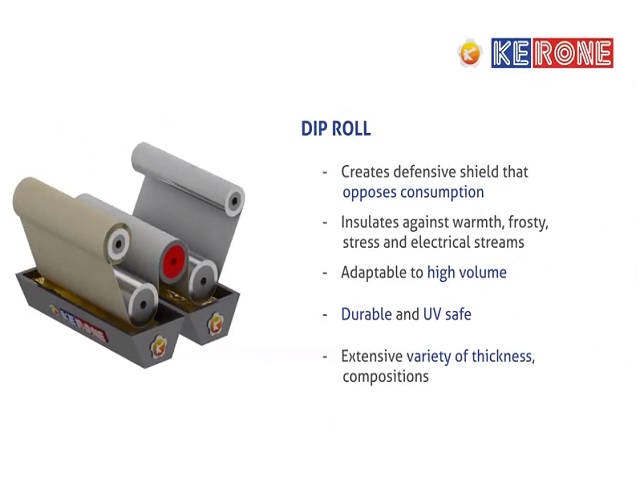 Immersion/Dip Coating Machine
This is an industrial coating process; in which the substrate is dipped into a tank of the coating reservoir, which is normally of a low viscosity to enable the coating to run back into the bath as the substrate emerges.
Immersion/Dip Coating Machine process follows a predetermined procedure, which requires that the components to be coated be cleaned in order to remove impurities. This leads to superior foundational connection as well as increased resistance to consuming. All places where polymer coatings are required must be treated with a pretreatment if grip to the component is desired.
To establish the preparatory and prepare the part for the hot dipping operation, the prepared part is heated and streak dried. The fluid material floods the prepared area, which is still hot from the groundwork change heat. Upon removal from the shower, each heated component of the product immersed in the fluid polymer will layer with a layer of partially blended polymers. The amount set aside will vary based on how long the component was immersed in water, what temperature it was submerged at, and the overall composition of the compound used.The polymer thickness becomes more notable with increasing metal temperature and longer immersion duration. The semi-melded polymer-covered portion is heated to a temperature determined by the specific chemical equation. This completes the product's grip and coating combination.It is quite sensitive to surface damage at the moment the hot component coated with melded polymer exits the burner. The component is allowed to cool before handling. After the covered product is finished, it is removed from the transporters, examined, and prepared for pressing and delivery.
Advantages of Immersion/Dip Coating Machine
Dip coating gives a defensive shield that opposes consumption.
Insulates against warmth, frosty, stress and electrical streams.
Adaptable to high volume requests obliging quick conveyance.
Durable and UV safe.
Alternative hues and completions (reflexive and matt) can be made effortlessly and financially.
An extensive variety of thickness, compositions
Application of Immersion/Dip Coating Machine
Tank and Immersion System
Material Handling
Temperature Control
Drying and Curing
Coating Thickness Control
Filtration System
PLC (Programmable Logic Controller)
Safety Features
Material Compatibility
Maintenance and Cleaning
Versatility
User Interface
Features of Immersion/Dip Coating Machine
Tank and Immersion System
Material Handling
Temperature Control
Drying and Curing
Coating Thickness Control
Filtration System
PLC (Programmable Logic Controller)
Safety Features
Material Compatibility
Maintenance and Cleaning
User Interface