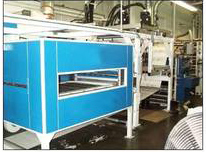 Flask Cure Infrared Refineries
We customize wide range of Flask Cure Infrared Dryers best on the specialized need of client/process demand. The dryers are of high quality and high performance.
Flask Cure Infrared Refineries are specialized with High efficiency, low power consumption and compacts size are the factors which lead to clients appreciating the range off dryers available.
Features:
Flask Cure Dryer has following feature:
Robust & compact Construction.
Easy to Handle and very less maintenance.
Precious quality of Raw materials such as Infrared emitters, steel used of the casing.
Properly insulated against loss of radiation.
Highly controllable, electronics control panel.
Both Batch and continues mode of operations can be achieved.