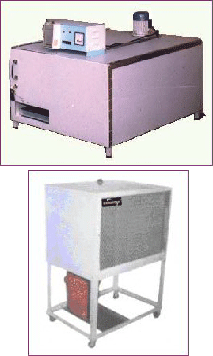 KERONE is engaged in designing and engineering specialized and quality products for its customers since last 40years, which had given us an upper hand in understanding the nerves of the clients process need and responding the demand of the market with its custom developed dehumidifiers.
uality Freezer offers the perfect Freezing atmosphere for complex medical biotechnological and industrial applications. Uses embrace the preservation of plasma, Vaccines, microorganism and the testing of materials and electronic components
Capacity:1.0 ton, 1.5 ton
The 1 ton dehumidifier has been designed for the floor area of 100 sq ft and also 1.5 ton dehumidifier has been designed for a floor area of 150 sq ft approximately. It is advisable to use air conditioner for to maintain better working condition in the location where dehumidifiers are installed. They work on 220 volts, single phase and 50Hz ac supply.
Special Features :
Optimum temperature is up to -35.0°C.
Micro-controller based control.
Bright red led display.
230 V ac power supply.