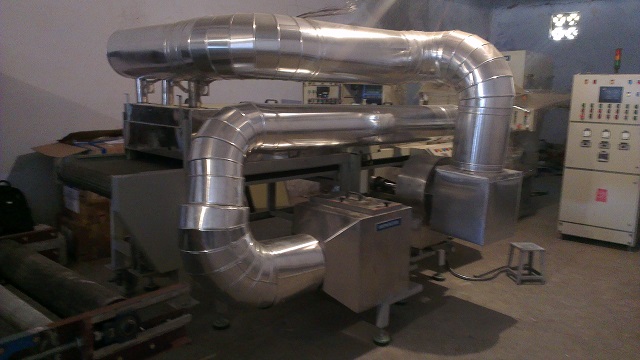 Conveyorised Gas Infrared Ovens
At KERONE, we design/manufacture a wide variety of continuous process ovens. Designs include flat conveyor belt style, chain conveyors, Ferris wheel, carousel, overhead trolley, serpentine, chain-on-edge, spindle, slat type, strip cure, print plate, pusher ovens, dog beams, wash-draw furnaces, as well as specialized custom conveyor ovens (Horizontal/vertical).
Industrial Heating, Drying and Curing Processes Revolutionized by Conveyorised Gas Infrared Ovens. These ovens have a robust legacy of designing, development and technical expertise, hence, they have been optimally configured to serve different industrial needs ranging from automobiles, aeronautics, and food/electronics productions, among others. The excellence in performance is evidenced by our Conveyorised Gas Infrared Ovens. Every oven is designed only after by carefully studying the client's specific process requirement to develop the heating system that will best fit for the application requirement. We also hold our expertise in designing of conveyorised gas infrared (IR) ovens that uses the efficient gas firing system designed cautiously by the KERONE. The conveyorised gas fired infrared (IR) ovens are manufactured after scrutinizing the speed, heating and cooling zone requirements. Conveyorised gas fired infrared (IR) ovens manufactured are having heating zone control and conveyor speed control mechanism.
Applications:
Automotive Industry
Aerospace
Food Processing
Electronics Manufacturing
Textile Industry
Plastics Industry
Woodworking
Metal Fabrication
Pharmaceuticals
Print and Packaging