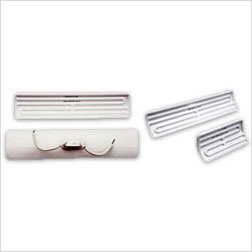 Kerone is the leading producers of the best quality infrared equipments and heaters. Latest technology and in-depth research has gone into making equipments with the quality standard that fulfils the customers' needs.
The Ceramic Infrared Heaters are by a firmly burnt-in heating coil to deliver maximum heat energy. Highly heatproof resistance wires has been used to protect the equipment from damage and the resistance of the heater remains constant over the varied temperature range. This gives a longer life to the equipment. The quality glaze used in the heater has excellent radiation properties leading to very high radiation efficiency. Ceramic Infrared Heaters are available with colour changing feature as Yellow Ceramic IR Heater (CC FSR)
Ceramic Infrared Heaters are available in:
Full Length 245 mm (FSR) 60 mm 250 to 1000 W.
Half length 122 mm (FSR/2) 60 mm 125 to 500 W
Features:
The material used does not oxidize resulting in cleaner surface and no wear out.
The coil is placed in a ceramic material and can be placed in any position.
Application:
Thermoforming and Vacuum Forming.
PVC Pipe belling and Socketing.
Hot stamping.
Heat Therapy.
Shrink Packaging.