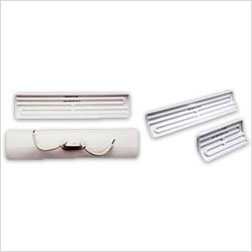 Ceramic Flat Infrared Heaters
KERONE is highly dedicated towards the research, development and manufacturing of high quality and customized infrared heaters based on the application need of customer business.
The specialty of ceramic flat infrared heaters lies in its external structure. The flat shape of heaters gives them a flexibility to he used with more comfort. They look like a new-age product. There are several advanced features incorporated in these heaters making them better than general heaters.
Kerone.com is specialized in infrared heating application which covers large warehouses, shops, aircraft hangers and specially designed infrared heating systems. Infrared heat is the best solution to heat both large and small industrial and commercial applications.Infrared heating system is the latest technology which gives warmth and comforts without any pollution. Infrared heating system is the complete replacement for your old heating system. There is no need to burn any fuel like coal, gas etc, to get the best comforts.Ceramic Flat Infrared Heaters are constructed by a firmly burnt-in heating coil. They consist of high heatproof resistant wire.
Application:
Thermoforming
Vacuum Forming
Shrink Wrapping/ Fitting
Mold Heating
Drying Applications
Paint & Powder Industrial