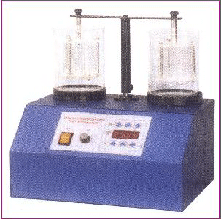 KERONE is well established name in the market from designing and engineering quality products, for varying need of our clients. Unlike standard manufacturing standard manufacturers we don't evolve only in one but then to we have our processes and procedures set for every single product, machines or apparatus in conformance to ISO standards and holds ISI and other required accreditations.
The Bulk density apparatus that are designed in KERONE are having superior quality material and in instruments within in it, which make the KERONE's Bulk density apparatus more accurate, precious and higher running life.Bulk density is a property of powders, granules, and other "divided" solids, especially used in reference to mineral components (soil, gravel), chemical substances, (pharmaceutical) ingredients, foodstuff, or any other masses of corpuscular or particulate matter. It is defined as the mass of many particles of the material divided by the total volume they occupy. The total volume includes particle volume, inter-particle void volume, and internal pore volume Bulk Density is an essential test requirement for quality control in manufacturing tablets, capsule filling and cosmetic manufacturing. The exact number of stroke is set up by four digit microprocessor based pre-set counter. A common lock cushioned holder for both the cylinder drops down smoothly from the height and hold the cylinders. The last mode of operation is performed when the power is resumed and the test is completed in case there is power failure in between the process.
Cylinder Capacity :
50 ml* 2 nos No of Drops: Adjustable between 1 to 9999 drops.
Display: Digital 12 mm Red LED Drop. Drop
Height : 25 mm approx.
Dimension : 350w*270d*280 mm H.
Weight : 11 Kg approx.