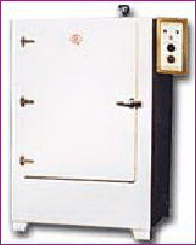 Bacteriological Incubator
KERONE is having vast experience in designing and manufacturing of various ranges of Bacteriological Incubators to meet the specialized need of scientists, individual, Research Laboratories, Defence Installation, Educational Institute and R&D Laboratories of leading national and multinational companies for specialized research application.
Bacteriological Incubators are designed as a three walled heating units. The outer body is constructed of thick PCRC sheets which are pre-treated with primer, rust proofing and painted with lasting stove enamel or elegant powder coating. Bacteriological Incubators comprises of SS 304 grade stainless steel of heavy gauge makes the inner chamber. The gap in the wall is filled with high grade mineral glass wool for maximum thermal efficiency in the Bacteriological Incubator. The unit is fixed upon a robust steel frame. The castor wheel attached to the frame (for large models only) allows for easy movement of the unit inside the laboratory. It is provided with one to three stainless steel shelves as per the inner size.
Features:
Heating: A high grade tubular air heater of suitable wattage is used to provide indirect heat to the unit. The efficient motor fan at the back of the unit evenly distributes warm air ensuring good temperature sensitivity.
Temperature Range: The temperature of the standard Bacteriological Incubator ranges from 50°C above normal to 70°C. However, the capacity of the standard model can be modified to suit the specialized requirement of the individual customers.
Temperature Sensitivity: The temperature inside the Bacteriological Incubators is controlled with the sensitivity of ±5°C or much better.
Front Panel: Front Panel of the unit consists of on/off switch, heating and mains indicator lamps, thermostat or temperature controller.
Temperature control: Hydraulic type German thermostat (sensitivity ±2°C) or Microprocessor is used to maintain the temperature inside the incubator based on temperature controller and indicators.
PID controller: Precise control of temperature by using CE approved micro controller based PID controller (Imported, Auto tuning type) for better accuracy (± 0.2°C)
Safety controller: Dedicated safety controller with addition sensor to switch off the power supply in case of overshoot and undershoot of temperature giving audio visual alarm.