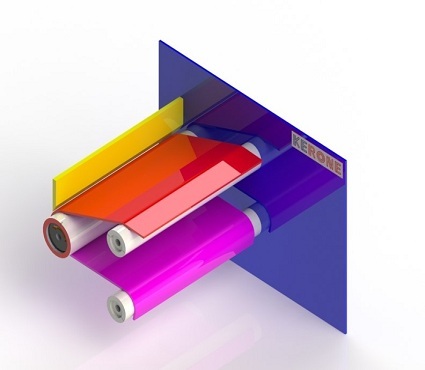 The Air Knife coating machine is a technically precision machine designed to efficiently and uniformly apply thin coatings to a variety of surfaces. The Air Knife Coating machine works by using rapid, repetitive airflow compressed air, blown overhead to cover the surface.
Air Knife coating, likewise called Air Coater is a case of an old coating system that is still generally utilized and has a part as a part of the coating process. It was broadly used to successively cover the different layers required for photographic movies in light of the fact that it could apply thin layers from low thickness arrangements. Slide and blind coating on account of enhanced quality, higher rates and multilayer ability supplanted it.
It is currently generally used to apply pigmented coatings in the paper business and for 100% solids coating, for example, liquid zinc and aluminum in arousing applications A basic process where the coating is connected to the substrate and the abundance is 'brushed off' by an effective jet from the Air Knife coating. This method is regularly utilized for fluid coatings and is especially boisterousWe at KERONE are having 48+ years experience in designing and manufacturing various types of specialized coating and impregnation plants for various industrial processing needs of our clients. We are having immense experience in designing and manufacturing of Air Knife Roll coating machine that can best fit for the size and various processing requirements of the client's business.The Air Knife coating machines manufactured by KERONE are made with high quality internal and external material by taking discreet efforts for the perfect coat and uniform heat distribution.
Features of Air Knife Coating
Precision Coating
High-Speed Operation
Adjustable Nozzles
Versatility
Drying Capabilities
Minimal Waste
Ease of Maintenance
Digital Controls
Energy Efficiency
Compatibility with Various Substrates
Compact Design
Customization Options
Environmental Considerations
Safety Features
Application of Air Knife Coating
Paper and Printing Industry
Automotive Industry
Food and Beverage Industry
Textile Industry
Electronic Industry
Metal Coating
Film and Flexible Packaging
Photovoltaic Industry
Medical Industry
Aerospace Industry
Advantages
Precision Coating
High Speed and Efficiency
Reduced Material Waste
Uniform Coating Distribution
Quick Drying
Versatility
Ease of Maintenance
Environmentally Friendly
Reduced VOC Emissions
Customization and Adaptability