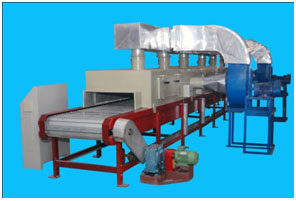 The main purpose of the solvent drying system is to remove/ evaporate the solvents from the material under process, the solvents can be of multiple type differs based on the material under the process.
The presence of moisture in solvents can cause problems with product quality, safety, or process efficiency, hence solvent drying systems are vital equipment in many sectors. By eliminating moisture from solvents, these systems make sure that the substances satisfy the demanding specifications of certain uses. Low moisture levels in solvents are accomplished by a variety of methods used by solvent drying systems, including desiccants, molecular sieves, and distillation. The Solvent Drying System improve product quality by lowering the need of execessive heating or cooling of the product and it also conserve energy. By keeping solvent moisture content low it resist the reactions, corrosion and contaminations of the solvent. Solvent Drying System is kind on solvent drying system that uses Infrared as source of heat, the capability of Infrared (IR) heaters to heat the surface of material very quickly with no waste of time and at very efficient manner. Proper wavelength selection of for the drying process can help to generate high amount of heat in shorter area hence total size of drying plant becomes short, KERONE helps its clients in proper selection of heating system based on the need of the process.
Applications:
Paint coat drying
Pharmaceutical Industries
Laboratories
Printing Machines for the Ink drying
There are Multiple applications of Solvent dryers depending on the process and its Temperature requirement .