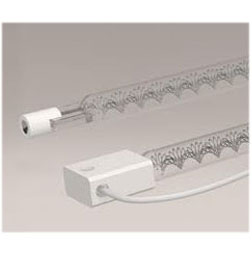 Fast Medium Wave Infrared Heater
At KERONE we manufacture Infrared heaters for different applications from those required rapid heat-up to those require high temperature. The wavelength of the Fast Medium wave infrared heating is chosen such that the infrared emitted considerably influences the usefulness of the heating and drying process.
Fast Medium Wave Infrared heaters can be designed and supplied in multiples sizes based on the need of process. The heater designed and manufactured by KERONE offers long operational lifetime and consistent temperature. The rapid heating makes it suitable for the processes where quick drying is required.
Features:
Transparent quartz glass tube of outer diameter 11x23mm.
Filament temperature of 600KW.
Wave length of 1.5mm to 2.0mm
Easily operation and installation
Spontaneous turn On and Off.
Tube format 34 x 14mm