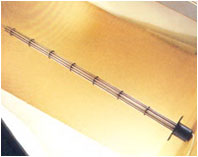 At KEROENE we have strived very hard to provide best quality Corrugation heater, as of now we have designed and manufactured various types of corrugation heater named on the process need of client.
Corrugations heaters are most commonly find its application to heat the rolls and turn form flute on the paper in corrugation machine, hence most commonly known as corrugation machine heater. Corrugation heaters designed at KERONE is strictly as per the norms and as per the required specifications of corrugation machines. The heating material used is of vey high quality and can very easily maintained and replaced if needed. It saves power consumption by its quick heating ability which is the USP of the KERONE's products.
Features:
Longer functional life
Low and easy maintenance
Dense construction
Quick and Easy installation
Precisely designed and engineered
Hassle-free functioning
Longer service life
Rugged construction
High durability
Energy and Cost efficient
Power saving
Efficient performance
Specification:
In the KERONE MODEL, the outer diameter is 8 mm O.D
In the STANDARD MODEL, the outer diameter is 10.8 mm O.D, giving it a longer durability. For faster heating purposes, High Speed Models are available at 9 KW (+).
Quality is not an accident, it is a constant process to improve. Availability:
| Machine Sizes | KW | Models |
| --- | --- | --- |
| 32″ M/C | UPTO 7 KW | Kerone/Standard |
| 42″ M/C | UPTO 9KW | Kerone/Standard |
| 45″ M/C | UPTO 9 KW | Kerone/Standard/High Speed |
| 52″ M/C | UPTO 12 KW | Kerone/Standard/High Speed |
| 62″ M/C | UPTO 15 KW | Kerone/Standard/High Speed |
| 65″ M/C | UPTO 15 KW | Kerone/Standard/High Speed |
| 72″ M/C | UPTO 18KW | Kerone/Standard/High Speed |
| 82″ M/C | UPTO 18KW | Kerone/Standard/High Speed |