Infrared dryers are modern day industrial drying solutions for material surface, Infrared (IR) dryer uses the infrared radiations, and Infrared radiations are invisible electromagnetic radiation whose wavelength is longer than the visible light wave range between 0.78 and 1000 µm. This type of radiation has characteristic to transfer thermal energy from warmer object to cooler object. The desired heat is produced at the surface of the targeted material, heat is produced on surface by matching the infrared emission spectrum of radiator to the absorption capacity of material.
Thermal radiation incident upon a body may be absorbed and its energy converted into heat, reflected from the surface or transmitted through the material following the balance: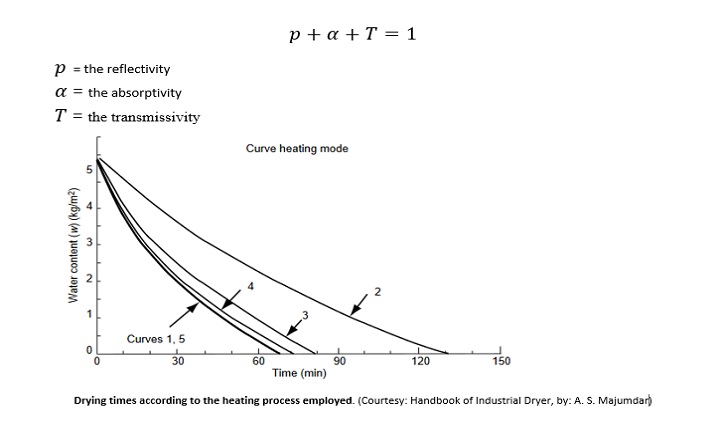 Infrared waves are majorly classified based on the wavelength range:
Short wave infrared (wavelength range from 780 nm to 1400 nm).
Medium wave infrared (wavelength range 1400 nm and 3000 nm).
Far infrared or dark emitters (Wavelengths above 3000 nm).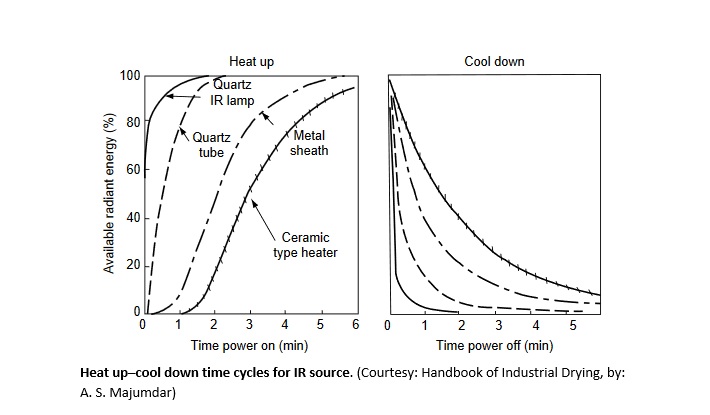 Infrared dryers belong to the family of generate heat at the targeted material type of dryers similar to microwave and RF dryers, however, the key difference is Infrared generates heat on the surface or material. Infrared dryers are the best substitute for conventional type dryers due to their property of dryer from the outer crust to the inner part.Infrared dryers utilizes high-end infrared radiators as the main source of heating, due this utilization of infrared for heating help the dryer to provide various advantages such as high efficiency, low response time, evenly heating the surface of the material, lower energy consumption, Green technology, and compact in size.Kerone is known as one of the early birds in the Infrared drying segment, we are in the first few heating/drying solution providers who started advocating in favor of Infrared as the source to produce the heat required from drying, in these several years we have played a crucial role in the transformation that happened in the segment of drying in Asia and other continents. We, as known for our designing custom, build drying solutions that strictly adhere to the client's process and pocket requirements without compromising the quality of the dryer and output material. The Infrared dryers (IR Dryers) are designed and customized to fit into the need of your process need for drying requirements.
Advantages of Infrared Dryers
Highly efficient in converting electrical energy into heat for electrical IR.
Greater rate of heat transfer.
Compact in size.
Heats only the object without heating the environment.
Easy to zone for uniform heating of the product.
Faster response to changing process conditions.
Quick start-up and shut down.
Easy to have cut-off zones for narrow widths.
Easy to control and automate.
Lower capital and installation cost.
Can be easily added to existing conventional dryers to increase line speed.
Infrared Air dryers suitable for solvent-based coatings.
Feature of the Infrared Dryer:
Infrared dryers are having superior Air Handling arrangements.
Forced airflow speed up drying/curing process.
High-volume circulation blower reduces energy costs.
After the dryer has been turned off, the blowers and belt will continue to run for five minutes to shut down automatically after cooling of heat chamber.
Separate dedicated blowers for circulation & exhaust Control Center.
Infrared dryers (IR dryers) are compact in size, hence it takes lesser floor area.
Infrared Dryers (IR dryers) are having digital keypad with digital display.
Air-cooled electrical control cabinet insures long life of electrical components Conveyor System.
Conveyor belt is made of imported antistatic heat-resistant, Teflon-coated fiberglass coating.
Conveyor Driven by a reliable, heavy-duty, variable-speed AC motor with imported variable speed drive and gear box.
Degradation of solvents by oxidation.
Rubber lining rollers for belt.
Minimum belt speed: 0.8 mtr per minute.
Max belt Speed : 15 Mtr/ Min.
Conveyor speed & IR system are integrated with each other for safety purpose.
Application of Infrared Dryers:
Drying of Fruits and Vegetables .
Drying of ink and paper .
Drying of coats in Coating line .
Dry and Pre-dry Water and Solvent based Pressure Sensitive Adhesives.
Laminate foam to fabric using web adhesives for automotive and furniture industries.
Drying of water based latex and clay coatings on paper.
Preheat films for laminating and embossing.
Drying of fabrics in Textile.
Cure Silicone coatings on various substrates.
Dry and cure solvent base resin coatings for electronics industry.
Cure 100% solids resin coatings on fiberglass for Printed Circuit Boards.
Drying and curing coatings on industrial fabrics.
Drying of pharmaceutical coating .
Max belt Speed : 15 Mtr/ Min.
Sterilisation of packaging containers for Food and pharmaceutical industries .
Just fill the form & Get the download catalogue directly in your Inbox